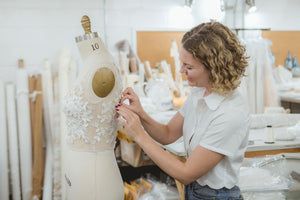 Book Your Design Consultation
We are in a season of change in our Westchester, NY, studio.
For this fall, all appointments will be by request only. Availability is limited, so please fill out an appointment request below (we will reply with a confirmation).
We also encourage you to visit one of our valued stockists. Search here or contact us to find a boutique nearest you!
Please note our bridal collection ranges in price from $2200-6000. Customized designs start at $3500, and fully custom gowns start at $5000.
To learn more about what is "custom" vs "not custom", where to find a specific gown, or just generally how the process works, we encourage you to email us at design@rebeccaschoneveld.com!