Frequently Asked Questions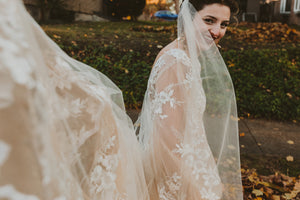 Size inclusivity is at the heart of what we do. We develop many of our designs in a range of sizes, usually from a size 6 to a size 20. These samples are available to borrow via our retail partners or to try on in our design studio.
Our Bridal Collection pricing starts around $2200 for a full gown and goes up to $6000, but most of our styles are between $2800-4500.
All of our gowns are customizable. Those changes can cost anywhere from $100-1000 depending on what the changes are. 
Rebecca welcomes clients to visit her design studio to work with her on fully customized designs. These pieces start at $3500 and can go up to $10k+ (completely depending on fabric choices and details).
Our made-to-order gowns (which is the majority of our collection) take 4-5 months to make.
For those who need a gown in a hurry, we also carry a selection of gowns in stock, especially from our Schone by RS collection, as well as some brand new samples which are available off the rack.
We do have rush options -- as fast as 4 weeks when possible. Rush fees apply.
Our gowns are made for each order in standard sizes and you should expect to need alterations to achieve a perfect fit. 
We recommend budgeting anywhere from $700-1200 for your alterations, depending on the tailoring studio you choose. We also suggest  that you give yourself least 8 weeks for the alterations process.
We do not offer alterations services out of our studio at this time.
We do have a curated and vetted list of outside recommended alterations providers in the tri-state area. Please reach out if you would like to obtain this list.
Many of our gowns are customizable, which means you can easily create your own unique look by using our existing designs as a starting point.
Some common custom changes include (but are not limited to): interchanging tops and skirts between dresses, adding sleeves, altering a neckline shape, adding a strap, changing color, etc. Further changes can be made most of the time -- just ask us what you are looking for and we will do our best to help! 
Custom changes cost anywhere from $100-1000+, depending on the level of complexity.
Yes! Rebecca accepts a limited number of fully custom design commissions annually, working with clients in her Westchester NY studio.
Our collection is extensively customizable, and most clients find they can get something quite "custom" looking without needing to technically start from scratch.
Additionally, if you are dreaming of something truly unique, we encourage you to schedule a virtual consultation to learn if we can meet your vision. Please note fully custom gowns start at $5000 and can cost up to $10k+.
Absolutely!
We work with dozens of wonderful retail partners around the United States and beyond. Each boutique carries a more limited selection of our gowns, but we are often able to lend samples of specific styles to them for your appointment.
Please email us or contact the store nearest you to learn more.
We are always excited to discuss new wholesale relationships, so that we may reach brides in more regions. To start the conversation, please email us at wholesale@rebeccaschoneveld.com
We love collaborating with fellow creatives when schedules permit. Please email us at connect@rebeccaschoneveld.com to discuss upcoming photoshoots.