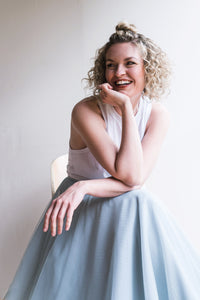 Our FOUNDER + DESIGNER
Rebecca Schoneveld is an American designer of timeless, accessibly luxurious bridal gowns.
A native of California and educated at New York City's Fashion Institute of Technology, Rebecca is an independent leader in the bridal world. She is respected for her innovation and advocacy toward a more creative, inclusive, and sustainable approach to wedding fashion.
Born as the fourth child of five to an immigrant father and sixth-generation Californian mother, Schoneveld's designs convey her intuitive sense of spirited individuality and pioneer thinking. Rebecca began learning to sew dresses at the age of four and earned her first design position in NYC at the age of 17.
She studied ballet on scholarship throughout her youth, which directly influenced her appreciation of movement, form, and discipline. Having a life-long fascination with the history and culture of clothing, she spent her teenage weekends scouring thrift stores for flawed vintage gems which she often transformed into one-of-a-kind pieces. From these roots she has grown her internationally recognized brand.
Rebecca resides with her family in Westchester, NY, and welcomes clients who are interested in customized designs to her creative studio there.
Learn more about Rebecca's custom process
Our BRAND
Rebecca Schoneveld firmly believes that beautiful clothing should be created intentionally. Our purpose lies in the joy of celebrating women, in the appreciation of craftsmanship, and in the joy of marking life's special milestones.
Rebecca's designs focus on high-quality materials, excellent fit, and female-empowering shapes. Pushing against the cultural norms of traditional luxury labels, the Schoneveld brand aims to be welcoming, accessible, non-judgmental, warm, and uplifting.
Our collection is anchored in classical design but always looking to what is culturally and fashionably current. Each design carefully balances restraint, sensuality, and fun, allowing the wearer to shine through as her unique individual self.
Clients can find Rebecca's collections at esteemed boutiques across the US and beyond.
Find a retailer near you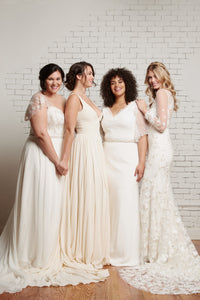 Our APPROACH
Whether working with clients in our studio or through a retail partner, we are passionate about creating pieces that offer individuals exactly what they are seeking. Sometimes that means switching skirt shapes, changing fabrications, adding a custom sleeve, or simply altering a neckline.
Our approach to custom design is refreshingly simple and easy to understand. For over 10 years, Rebecca has been developing a library of beautifully proportioned shapes and luxurious fabrics, all of which can be combined in endless possibilities. Within this library, we are able to skillfully create unique variations of design, tailored specifically for each client -- no matter their size, age, or style preference.
We take great joy in designing romantic, dimensional collections that are beautifully suited to an array of individuals. Of course, many of our clients order designs just as they are originally presented. However, as no two people are the same, we also believe no two garments need to be the same. If you are interested in a more personalized approach to your gown design, we encourage you to contact us